According to the infographic at right, shoulder pain is among the most common reasons Northern Nevadans visit Great Basin Orthopaedics.According to data from the Bone and Joint Initiative USA, shoulder pain is reported by an alarming 22.3 million people over the age of 18 in the U.S. annually and is the second most common joint site for chronic pain — behind chronic knee pain. Shoulder pain is reported in fairly equal rates by males and females, with males having a slightly higher rate. So we're turning to an expert to answer shoulder questions: Dr. Sean Fitzpatrick, a sports medicine specialist and orthopaedic surgeon who frequently treats shoulder injuries among GBO patients.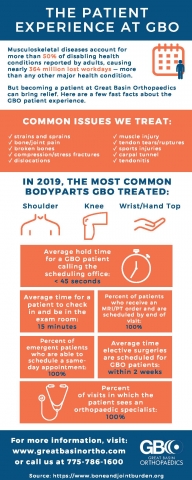 Q: Why do you think you see so many patients at GBO with shoulder pain?
A: Shoulder pain is absolutely one of the most common reasons for a visit to Great Basin Orthopedics. I believe a lot of this is due to the fact that we have such wonderful outdoor recreational activities to enjoy in our region. Sometimes this does result in overuse injuries, and in other situations, traumatic injuries. Both of these can cause significant pain, discomfort and disability. Other times it can be due to just normal wear and tear over the years that, in combination with a genetic predisposition, can lead to chronic shoulder pain.
Q: How do you define "chronic" shoulder pain?
A: Chronic shoulder pain is defined as pain typically lasting for 6 months or longer.
Related: 10 effective strategies for managing chronic pain
Q: What are the most common sources of shoulder pain and/or shoulder injuries that you see in your office?
A: Some of the more common sources of shoulder pain that I see in clinic are due to rotator cuff tears as well as biceps tendonitis. Both of these can be pain generators that cause people a significant amount of pain and discomfort.
Q: When should someone with shoulder pain see a GBO doctor?
A: I always recommend that anyone with aggravating shoulder pain that does not resolve over the course of a couple of weeks should be evaluated. However, if someone has an accident that results in acute shoulder pain, they should be evaluated immediately. Many times, there are interventions that can help expedite the course of recovery.
Q: What are the different ways that an orthopaedist can diagnose a shoulder problem?
A: The most important aspect of evaluating a patient is their history. I spend a long time with patients listening to them and trying to understand what specifically causes their pain. I think this is critical, and a lot of times I have a pretty good understanding of what sort of shoulder problem we are dealing with just by listening to what patients are describing. After that, I think it is important to perform a thorough physical examination to identify what causes the pain, evaluate weakness, and identify any other abnormalities within the shoulder itself. At this point, I discuss the findings with the patient, and if warranted, I will order advanced imaging, including MRIs.
Q: Why would it be better for a person to visit an orthopaedist rather than their general practitioner for shoulder pain?
A: I think general practitioners are very well trained in a number of different aspects of medicine. However, one of the benefits of being a shoulder surgeon is that I have spent many years of training being able to focus specifically on the shoulder itself. Because of this, I have a very thorough understanding of the shoulder and what patients require in order to return to the activities that they enjoy.
Q: If you find a problem during diagnosis, how do you determine whether to treat with physical therapy or through surgical intervention?
 A: I find that the best treatment plan comes through discussion with my patients. In most instances, I do prefer to pursue non-operative treatment plans whenever possible. However, there are some situations that are best treated with surgery. Again, my goal when I see patients in the clinic is to help them understand all of the treatment options available, which allows for an informed decision and customized treatment plan unique to their specific injury.
Related: Why physical therapy matters
Q: What are some of the common treatments for shoulder pain?
A: Some of the more common non-operative treatment plans that I routinely prescribe for my patients include physical therapy, prescription strength anti-inflammatory medications, bracing, injections for pain, and platelet rich plasma, or PRP. Occasionally when these non-operative treatment modalities fail, then I will discuss surgical options with my patients.
If you're experiencing shoulder pain and feel it's time for a shoulder expert to help diagnose and discuss treatment options, contact us for a consultation. The experts at Great Basin Orthopaedics can assess your pain and help you return to the activities you miss.