Cassie Macias-Hicks now prefers to play free safety. The day she ruptured her ACL and tore her meniscus — abruptly ending her 2019 football season — she was playing running back.
For four years Macias-Hicks has been a member of Nevada Storm, a professional tackle football team in the Women's Football Alliance (WFA). This past January she was back on the turf, fully healed and helping her team win the WFA Division II Championship (which subsequently moved them up to Division 1).
To get from the injured list back to the starting line-up, Macias-Hicks turned to Great Basin Orthopaedics (GBO) and Dr. Christopher Dolan. She was no stranger to GBO as her wife is a Medical Assistant there and she knew her surgeon's credentials.
"Dr. Dolan worked with the 49ers, so he knows sports injuries and he knows athletes," says Macias-Hicks. "When we discussed my treatment options, I made it clear I wanted to get back to football. I said, 'Treat me like an athlete, get me back in the game.'"
RELATED: Why Does My Knee Hurt?
Her treatment started in GBO's physical therapy clinic. She worked with therapist Amy Weyhenmeyer for two months with the goal of strengthening her knee flexors and improving mobility prior to surgery.
"I did whatever Dr. Dolan recommended," explains Macias-Hicks. "The PT got me strong and supported my recovery."
To return to full contact football, Macias-Hicks needed an aggressive surgical intervention and a prolonged recovery. On July 18, 2019, she had surgery. Dr. Dolan did a patellar intervention, constructing a new ACL from part of her own patellar tendon, another part of the knee. He also removed a torn portion of her meniscus.
She was told it would take a year to fully recover and it did. She did physical therpay for about three months after the surgery. Dr. Dolan cleared her for full activity in July of 2020.
"He really treats you with respect throughout the process," Macias-Hicks says of Dr. Dolan. "When we discussed using a brace for football, he said, 'You're an adult, you know your body.' I wore the brace for a while but didn't feel I needed it."
RELATED: Racing to Better Knee Health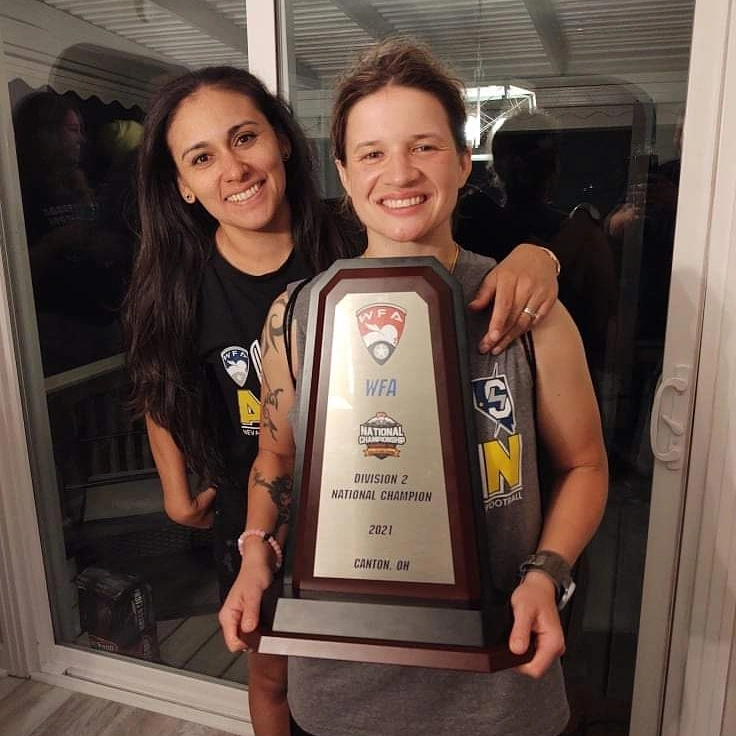 Macias-Hicks is a huge fan of GBO, and Dr. Dolan has referred several of her Nevada Storm teammates to them for injury assessment and physical therapy.
While at first, she was afraid to return to the running back position, she now feels strong and solid with no residual issues from her injury. Her coach even noticed she is actually cutting better than ever. So if you head to a Nevada Storm game next season, you might just see number eight playing running back.