Tom Polikalas' son likes to joke that he is now "living tissue over a metal endoskeleton," much like the Terminator. And yes, this is far superior to living with minimal cartilage and constant pain in his hips as he had been doing for many years.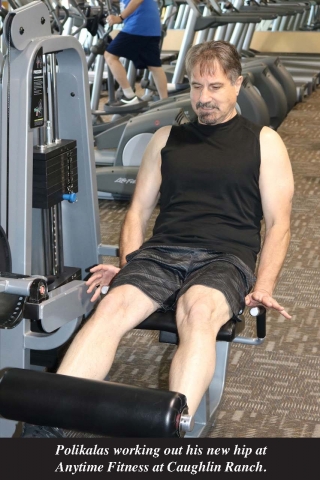 Polikalas had his hip replaced by Great Basin Orthopaedics' (GBO) Dr. Travis Kieckbusch on May 7, 2019. He says every day since then has been a blessing. "The recovery has been awesome," he shares. "I was back to walking a couple of miles within two weeks and I've gotten back to my other normal activities pretty quickly as well."
Polikalas says years of Tae Kwan Do and running on hard surfaces beat up his cartilage, an explanation he prefers to simply aging. Once the problem was diagnosed, he says he spent too much time researching other methods before visiting with Dr. Kieckbusch and scheduling his surgery.
"I had visited another doctor and went to a different physical therapist, but they had me doing stuff that didn't address the problem," he says.
He also researched stem cell replacement and other alternative medical treatments, but he realized the technology wasn't there yet and re-growing the cartilage wasn't feasible with current technology.
When Polikalas shared his findings with Dr. Kieckbusch, he appreciated what a straight shooter he was. "He told me to do what I wanted to do as it wouldn't actually cause more damage, but when I was ready for surgery he would be too," Polikalas says.  
In addition to Dr. Kieckbusch, Polikalas has high praise for the healthcare professionals at Northern Nevada Medical Center, where the surgery was performed. "The whole team was outstanding," he says. "I couldn't have had a better experience, and the nurses had me up and walking with a walker almost immediately."
He also credits Amy Weyhenmeyer, his GBO physical therapist. "She's been just awesome," he says. "She's thorough in her explanations about what's happening with my anatomy and structure. And when she says don't do something, I don't do it. I trust her completely and follow her protocol and guidance completely."
Polikalas originally found Dr. Kieckbusch through Weyhenmeyer as he had worked with her in the summer of 2018, when he was searching for a physical therapist to help with his sciatica. "Amy was the bright light in my PT chandelier," he says. "I can't say enough about her."
In retrospect, he says he wished he had moved forward with surgery a lot sooner. "Dr. Kieckbusch was highly recommended by Amy and some friends who work in healthcare, as well as someone who had surgery by him," he says. "He had a good reputation and my gut instinct told me go with him."
While Polikalas will continue physical therapy for another month, he says he's finally walking without pain in his hip, something he didn't do for almost a year prior. "It's been a godsend," he says. "I'm just astounded at how good I feel."
If you would like to discuss options to your joint problems, give GBO a call at 775-786-1600. Our orthopaedic specialists and physical therapists can help you get back to the life you want.