Whether they've been here for a year or 25, Medical Assistants (MA) are critical to Great Basin Orthopaedics' (GBO) mission of providing personalized, skilled, thoughtful care to all of our patients.
Each surgeon has a designated MA, and when their designated surgeon is not in the office you'll see them jumping in to assist each other or other doctors that day. MAs are responsible for everything from making patients comfortable and well-informed to checking blood pressure and taking out stitches.
Here's a brief introduction to the MAs you'll be working with while at GBO.
Sandy Spencer began working with Dr. Richard Hayes and Dr. Thomas Fyda 27 years ago at their former practice, Alpine Bone & Joint. After nearly three decades as an MA, she says her job is still interesting and she greatly admires her doctors. "They're people who truly care about our patients," she says. "I really appreciate that and the overall closeness in this office."
Kimberly Biagi began working with Dr. Richard Mullins, Dr. Christopher Dolan and Dr. Travis Kieckbusch at Sierra Orthopedics, the practice they were part of before teaming up with Dr. Hayes and Dr. Fyda to form GBO. She has enjoyed the transition to GBO, where she still stands side-by-side with Dr. Kieckbusch. "Dr. K. is very efficient, and I enjoy seeing how quickly he helps his patients get back to normal," she says.
Sam Hight has worked in the medical field since 1988, starting while still in high school. After spending her entire adulthood working in different aspects of healthcare, she wanted to explore being a Medical Assistant, so she went back to school to learn the ropes. Hight loves taking care of patients and has been Dr. Dolan's right-hand person for the past five years.
Sandy Siever started her healthcare career as an x-ray tech before becoming an MA 25 years ago. She worked at Sierra Orthopedics, followed Dr. Dolan to GBO, then began working with Dr. Aaron Dickens when he joined the practice in 2014. She sees a lot of fractures, since Dr. Dickens specializes in trauma and fracture care. She says she enjoys connecting with her patients and helping them do whatever that day's treatment requires. Her responsibilities include everything from setting up injections, scheduling and taking out stitches to ordering x-rays. Siever appreciates that every patient sees a doctor, every time, at GBO.
Laura Macias-Hicks has been with GBO for five and a half years, the last four and a half working side-by-side with Dr. Hayes. "I was working in administration when Dr. Hayes' MA went out on maternity leave and decided to stay home with her baby," she says. "That worked out really well for me." Macias-Hicks says GBO is the best company she's ever worked for. "The physicians are so caring, not only for patients but for the employees as well."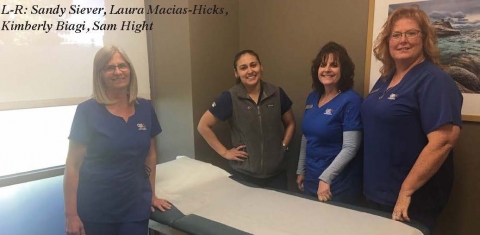 Leslie Burton has worked as an MA for 13 years, joining GBO when the three existing practices merged into one six years ago. She currently works as Dr. Richard Mullins' MA and she says she loves her work family. "The part I love most about my job is getting to know each patient, earning their trust and helping to resolve the problems that brought them to us," she says. "It gives me a feeling of purpose and comfort knowing that we have been able to bring someone's smile back."
Lorenzo Bayuga joined GBO almost a year ago after earning his degree in biology from the University of Nevada, Reno. He began working with Dr. Timothy Dooley when he joined the practice in 2018. Bayuga is planning to apply to medical school in 2020 and he says his experience at GBO made it clear to him that he wants to study orthopaedics. "I enjoy interacting with patients and tracking their progress," he says. "It's great to see them progress from not being able to use their hand and then see what they can do just a couple of months later."
Dajana Kline floats between doctors, depending on who needs her on each given day. She is accustomed to variety, having worked at Saint Mary's in different departments for four years, including radiology, x-ray, MRI, CT, mammogram and ultrasound. She joined GBO a year ago and she says she enjoys working in the field of orthopaedics, with one of her specialties being bloodwork. "I enjoy working with all of the different doctors as the variety keeps my job interesting," she shares.
As with everyone at GBO, the MAs are here to do whatever they can to ensure patient success. If you need help getting back to doing what you enjoy, give GBO a call at 775-786-1600.